Bridal Bouquet preserved in Resin
Posted on
Bridal Bouquets are a key part of every Wedding.
But it is a shame that you cannot keep them forever, as they only last 24/48hours.....

One of my Clients Charlotte Wharmby posted online how she had managed to preserve her Wedding Flowers in resin. and with her permission we are sharing the step by step process she used to make her gorgeous Resin heart.
Here is Charlotte & Gaz on their Wedding day (see flowers)
and here is the resin heart Charlotte made herself, which is absolutely gorgeous !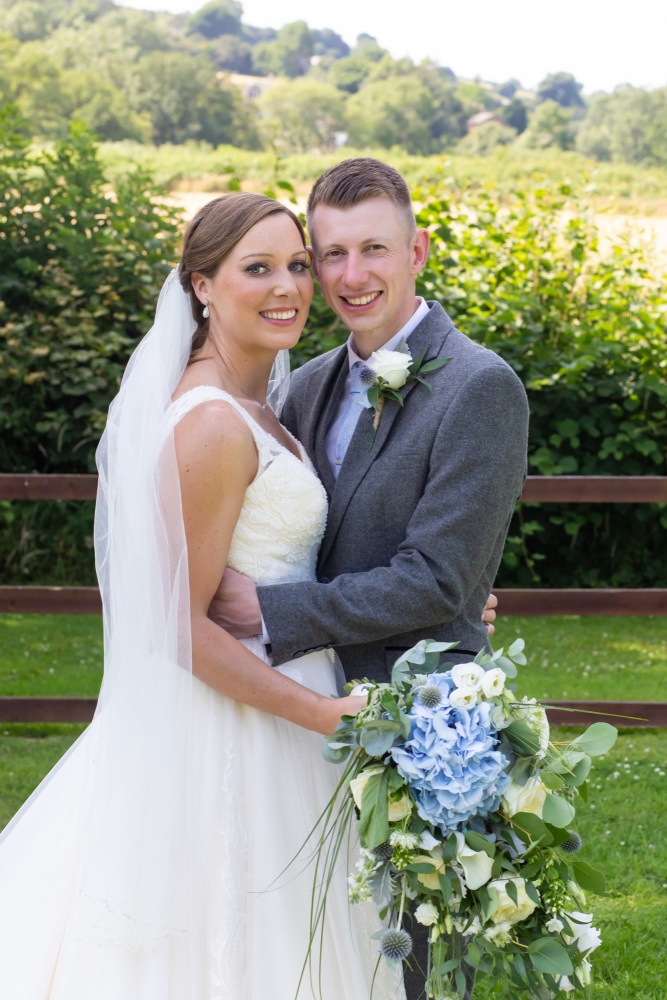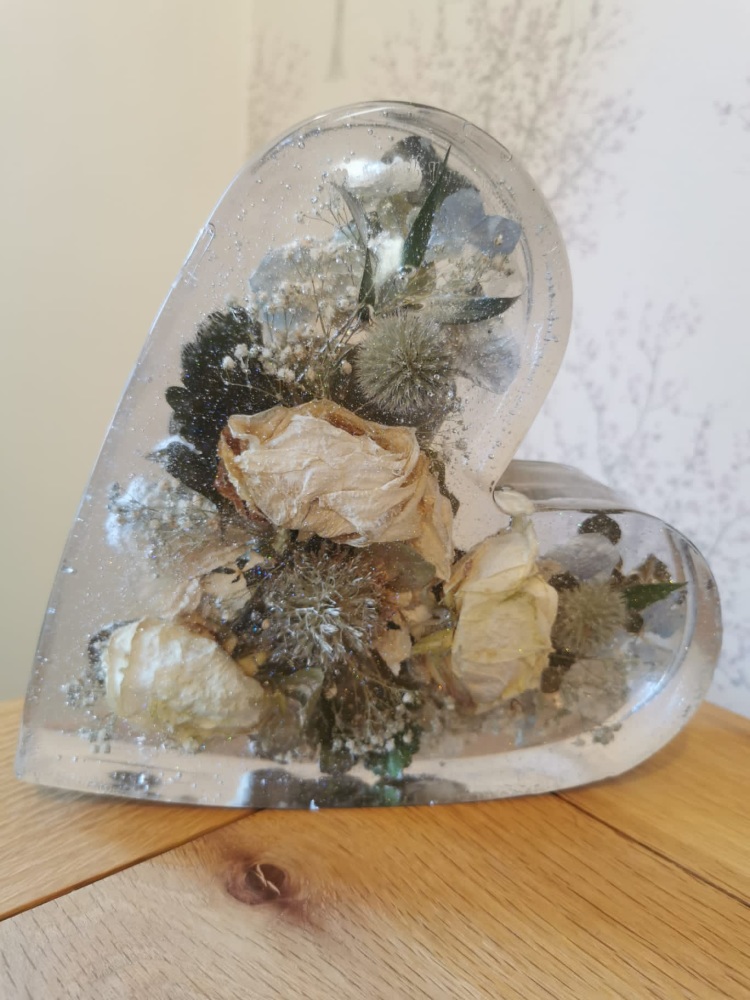 Charlotte has kindly offered to share her experience and top tips.
Step by step guide:
1. Snip flowers and foliage from bouquet whilst they are fresh (recommend more than needed so you have options)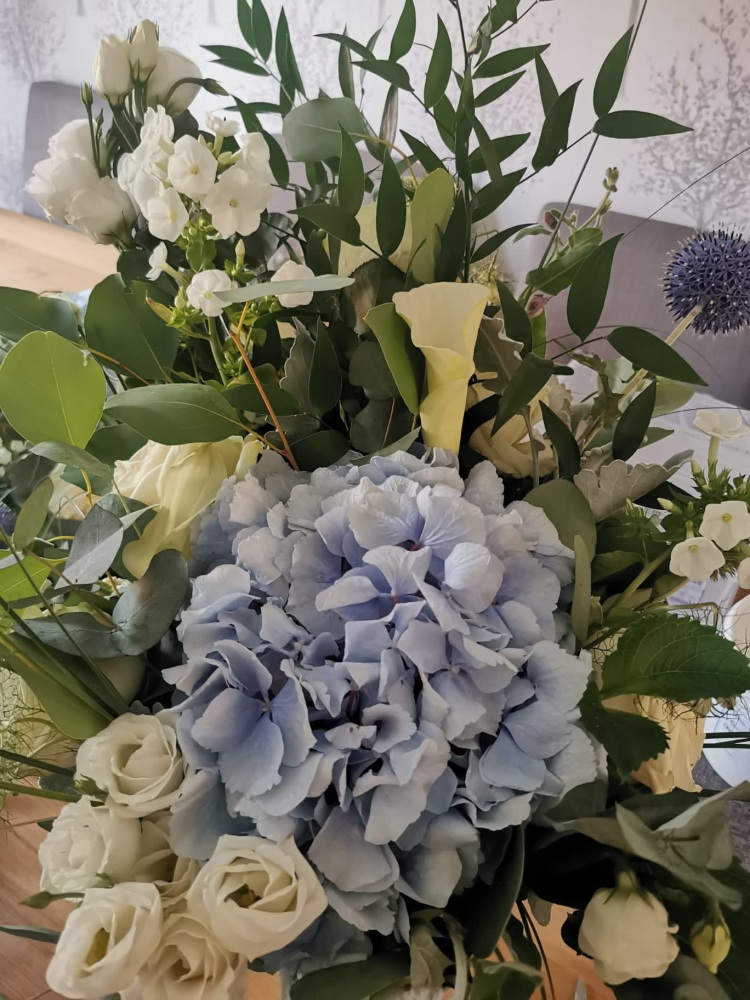 2. Put in air tight container and cover with silica gel for at least a week until dried - this helps preserve the colour and shape more than if they are air dried or pressed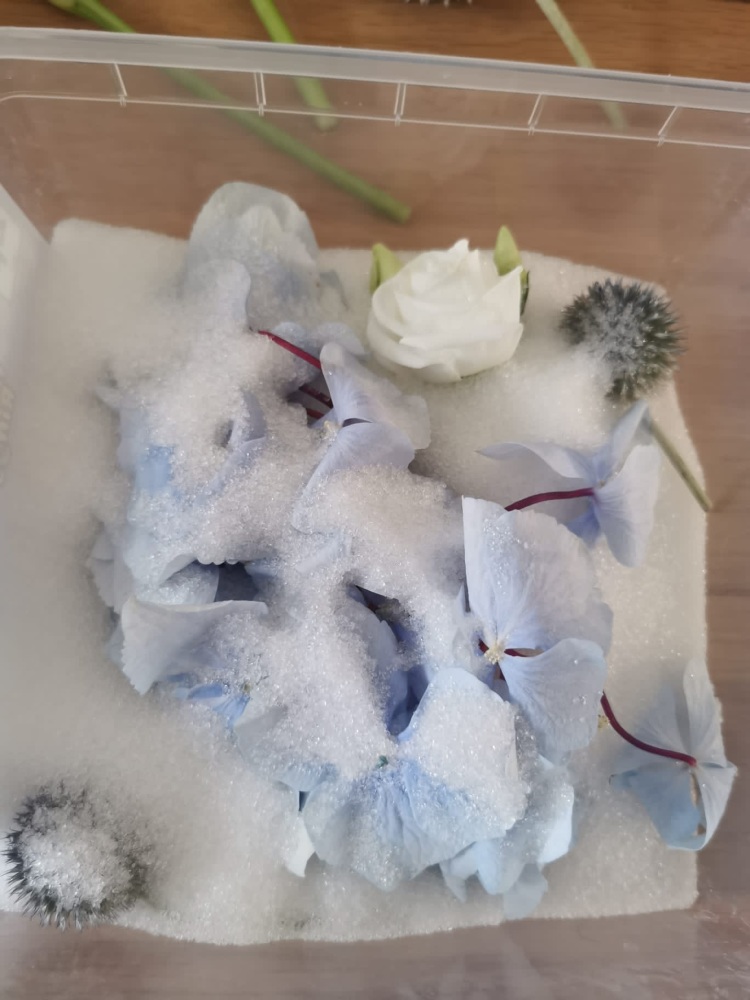 3. Arrange in layers but remember you will be arranging them upside down in the mold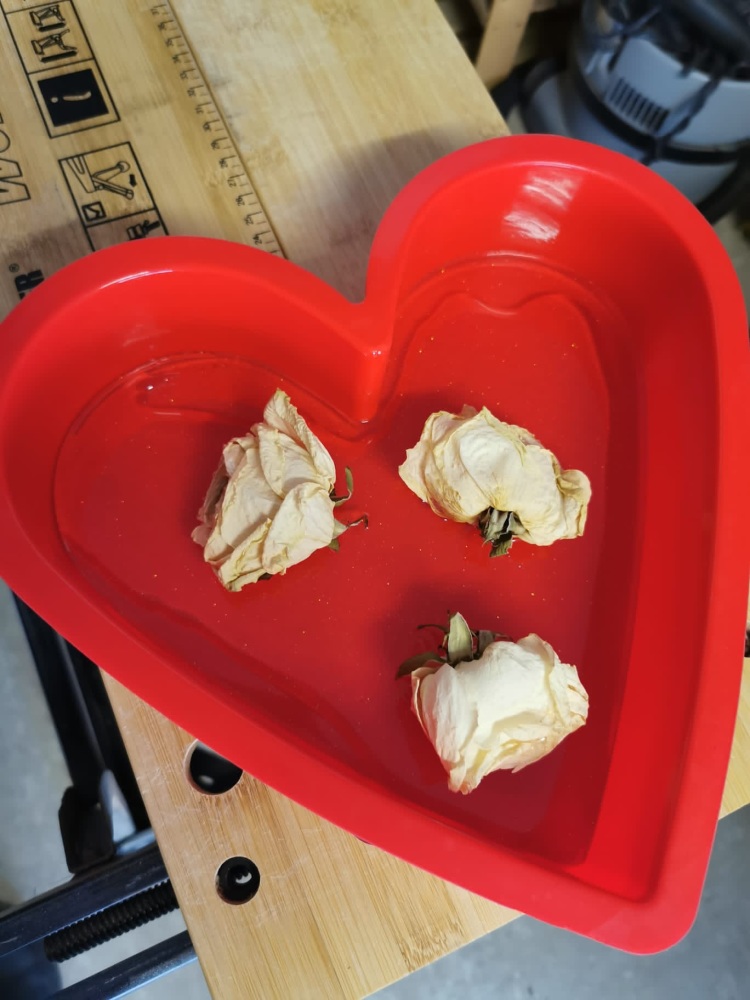 4. Mix resin (instructions for ratios will vary resin:hardener) and pour a thin layer approx 1cm deep into the mold
5. Use a heat gun to disperse any big air bubbles
6. Allow approx 15mins for first layer to begin setting/hardening then arrange first couple of layers of flowers and pour another layer of resin 1-2cm deep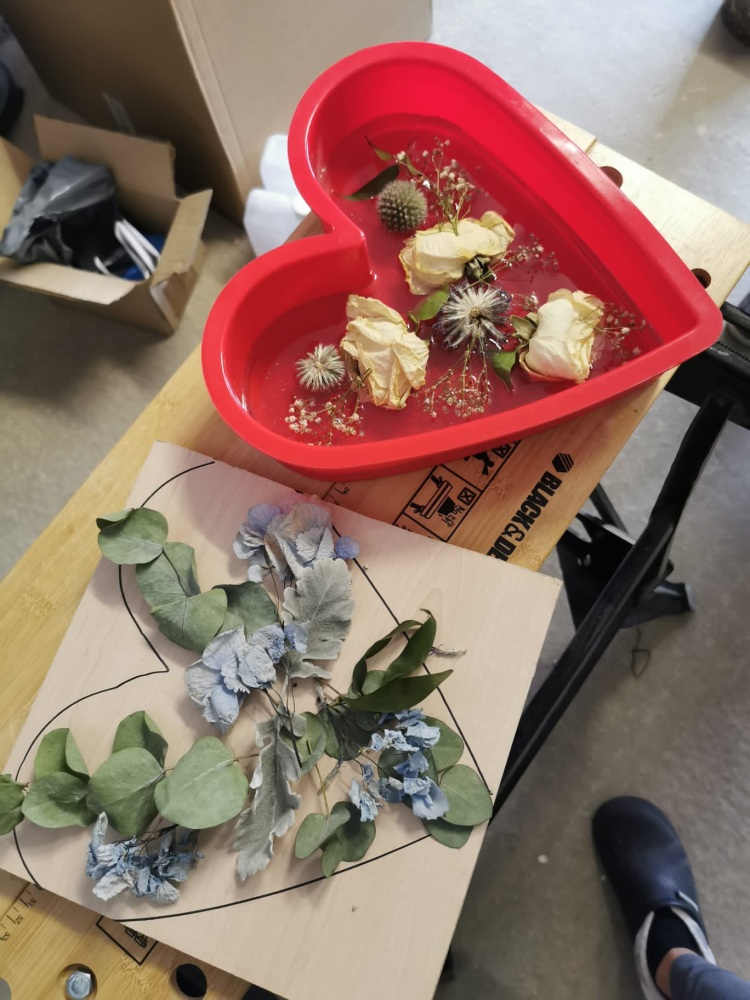 7. Leave to harden for at least a couple of hours - if you pour too much resin too quickly the chemical reaction will cause to much heat and your resin may crack
8. Repeat process of layering flowers and resin allowing a couple of hours between each layer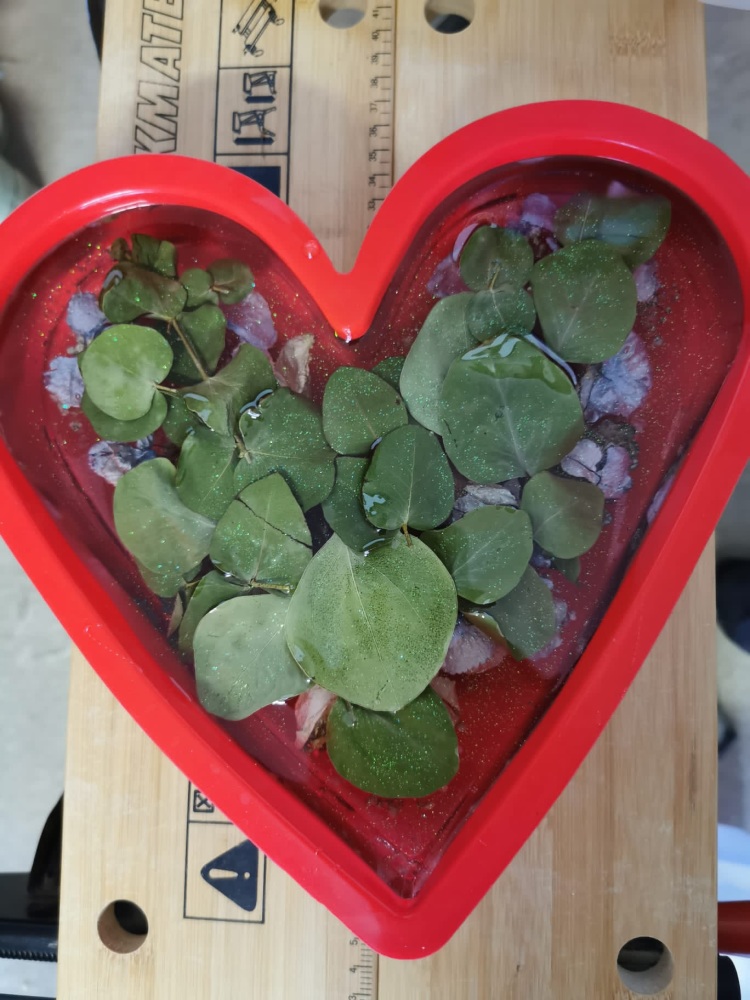 9. Once all flowers are covered by the resin and it has fully set, you can de-mold your masterpiece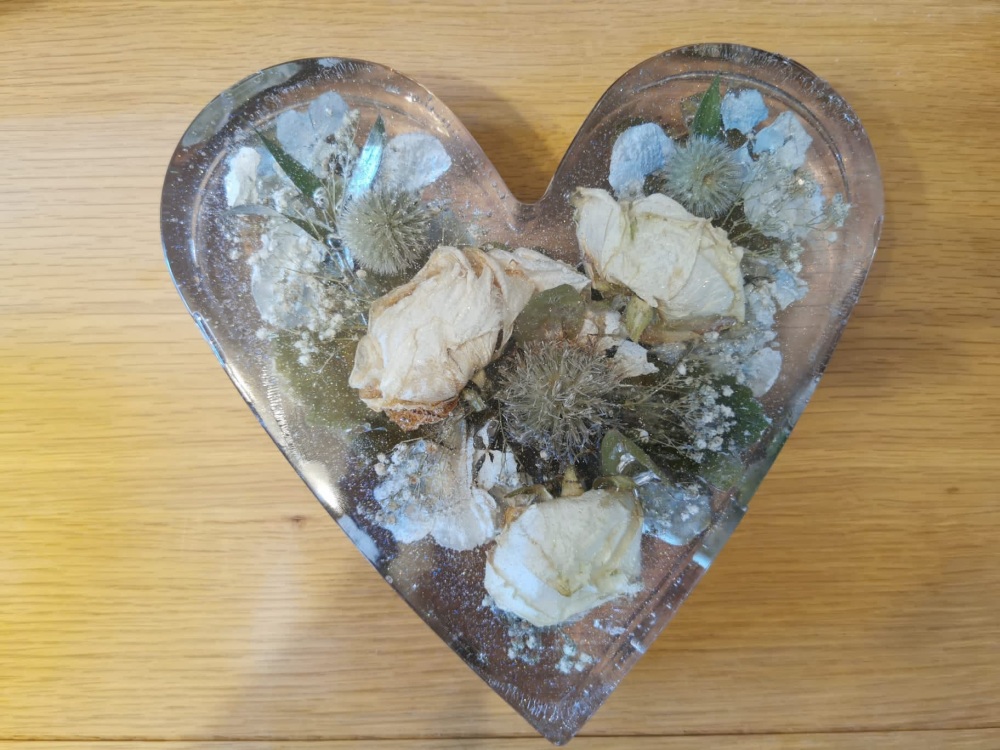 Top tips:
- Add a small sprinkle of glitter to a couple of layers
- Try drying a full variety of flowers/foliage as some work better than others
- Also some flowers/foliage from your husband/wife's buttonhole/bouquet
- For someone else to do this, it would cost £150, we managed it for £80
- It took 2 days to complete.
- watch afew youtube videos first, to better understand the process and materials.
"We love our Resin heart, and it has pride and place in our home" - Charlotte Wharmby
Thank you so much Charlotte for sharing your crafting tips and tricks!
Please let me know if you follow this guide, and how you get on ! Xx